Each candidate competes in getting a scholarship. They come from the various background, school, GPA, achievement, and many more. What distinguishes one candidate to the other is their personal statement. So, this is important to make your personal statement writing is outstanding among others.
There is no right or wrong in making a personal statement. But remember, scholarship committees seek a professional self and insightful people. They want to give free education only for a high-quality person. Make sure these points below are reflected in your personal statement. It would be factors that bring you to success.
What  Should be Included On Personal Statement Writing
Since the personal statement is an essential thing, you must pay attention to it. Don't ruin your goal. Here are things that should be in your personal statement:
1. Honest Condition
Begin everything with honesty, including in personal statement writing. Explain your current condition, such as your activity, interest, until your experience. Don't claim something that you have never done. It will trap you in the interview later. Be yourself and write who you are.
As the beginning, you may see the personal statement writing samples below:
Those samples describe a different condition of applicants. Indeed, this part is not that easy. Even it seems like telling your life, this opening determines your application. Once it attracts the committee, they will respond to you with an opportunity.
2. Your Ambition and Accomplishment
As mentioned before, the scholarship is only given to the high-quality one. Being futuristic is a key to be considered that you are worth. Be the person with life goal. Make it clear, rational, and achievable. Explain what your dream has been, also steps to make it true. This thing called as your ambition.
To make this part more perfect, add any accomplishment on your personal statement. It could make yourself stands out. This is proven that you have a clear plan to achieve success. Write it simply, honestly, and clearly, so the reader feels involved in your life journey.
3. Further Plan
Continues from the previous number, your plan should relate to your ambition. Don't let the committee asks you, "how come you step a different way from your destination?". It is a big no question. Understand them about your dream, how to get it, and the good influence after your dream happens.
A further plan also shows the possibility if they give you a scholarship. Whether you make a good contribution or vice versa. If you already had a clear dream, but still confused to explain the plan, get a mentor. Discuss what you want to tell, then get some advice from your mentor.
4. Authentic Idea
Sometimes you will be asked some questions. It is used to about the current issue. Give your authentic idea, and never copy from others. Enlarge your idea, and it would be more interesting if you can open a discussion. Strengthen with actual data and personal experience. May this personal statement writing pdf format to be your inspiration: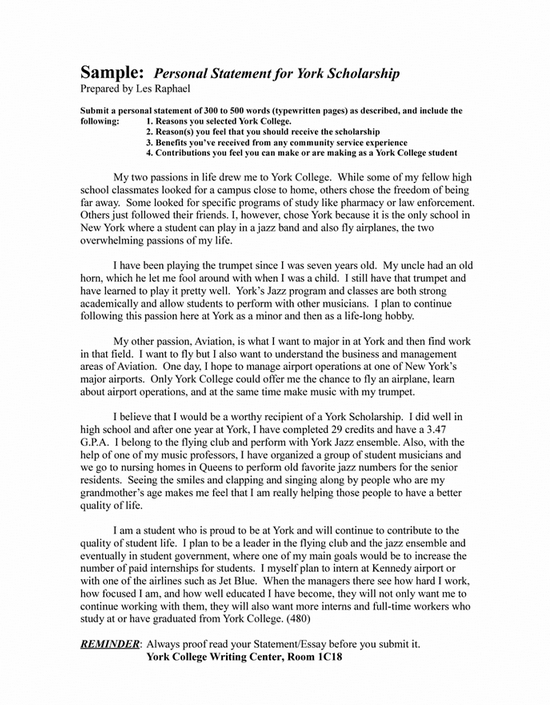 Before you write your idea, make a draft and re-read for times. Ask your mentor or friend about your brief. A good personal statement is not made in a day or week. It is through times of revision.
5. Understandable Weakness
No candidate is perfect, even though they have a high GPA and many accomplishments. Everyone has their own strengths and weaknesses. Since you have opened your personal statement writing with achievements, it is time to mention your weakness. Don't be worry, it is okay to tell about it.
But remember, make it understandable and reasonable. Add something that covers your weakness. It shows that you are good enough in understanding yourself. Also, the committee will determine you are the responsible one. Make this part not too wordy and keep it professional.
20 Templates of Personal Statement Writing
The personal statement writing must be representative of who you are. Make the committee deserves to read it until the finish. Read some personal statement writing samples will enrich your reference. Moreover, have enough time for revision will make it perfect.