7 Parts of A Respectful Job Offer Acceptance Letter – Jobs are hard to find. We have to go through several selection process, prepare ourselves for a long time, and be chained by anticipation about whether we will get the job. When the day comes that we are offered the job, the feeling is exciting. To secure the job, you need to reply that job offer with a job offer acceptance letter.
Why is a Job Offer Acceptance Letter Important?
When a company or employer gives you a job, it means that you are trusted and respected. Show that you respect the employer by giving a reply, whether you're taking it or not. If you do not reply, the company will be confused about several things. It will be confused about whether you already receive the letter, whether you'll take the job, and when you'll be able to start the job. If you reply to the letter right away, that confusion will be wiped away.
Aside from that point, it is also important to write this letter in order to show that you have a good ethics. Small steps like this shows that you are respectful, punctual, and well spoken. All of these traits lets the company knows for sure that you'll fit in the job. This job will act as a good first impression before you even enter the job.
Accepting a Job Offer Letter via Email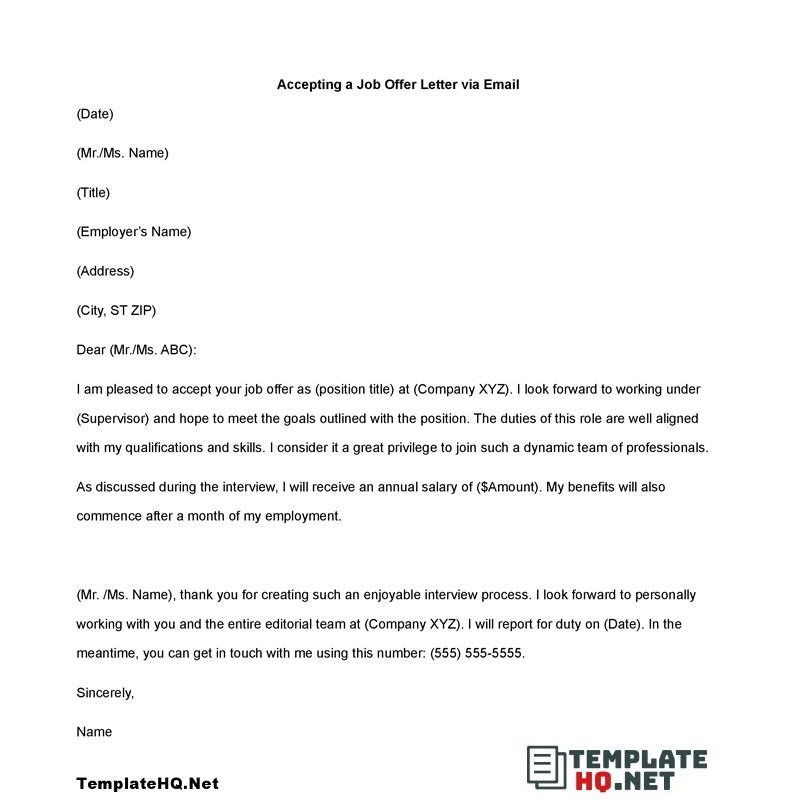 Apology Letter For Not Accepting The Job Offer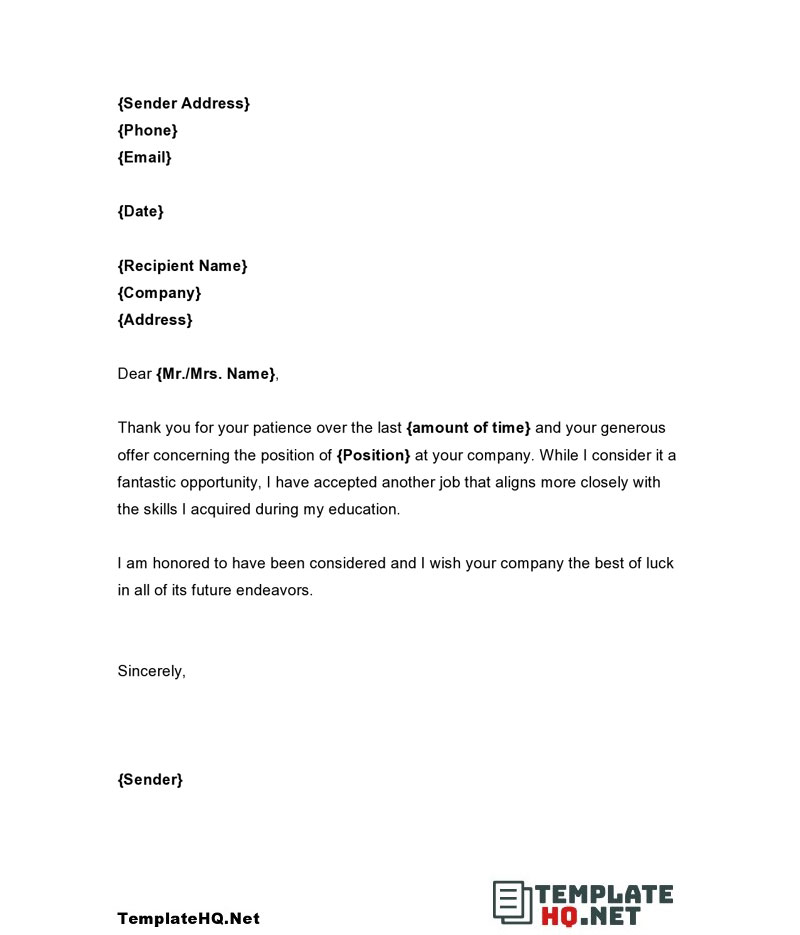 Job Offer Acceptance Letter with Conditions
Professional Job Offer Acceptance Letter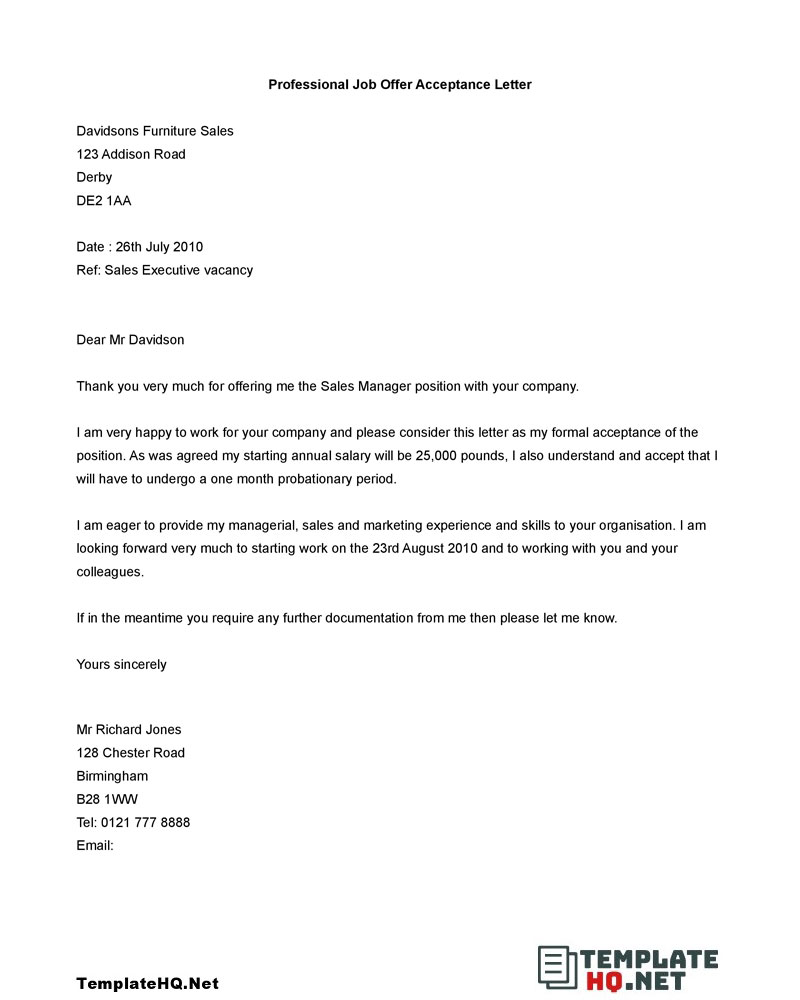 Sample Letter to Decline Job Offer After Accepting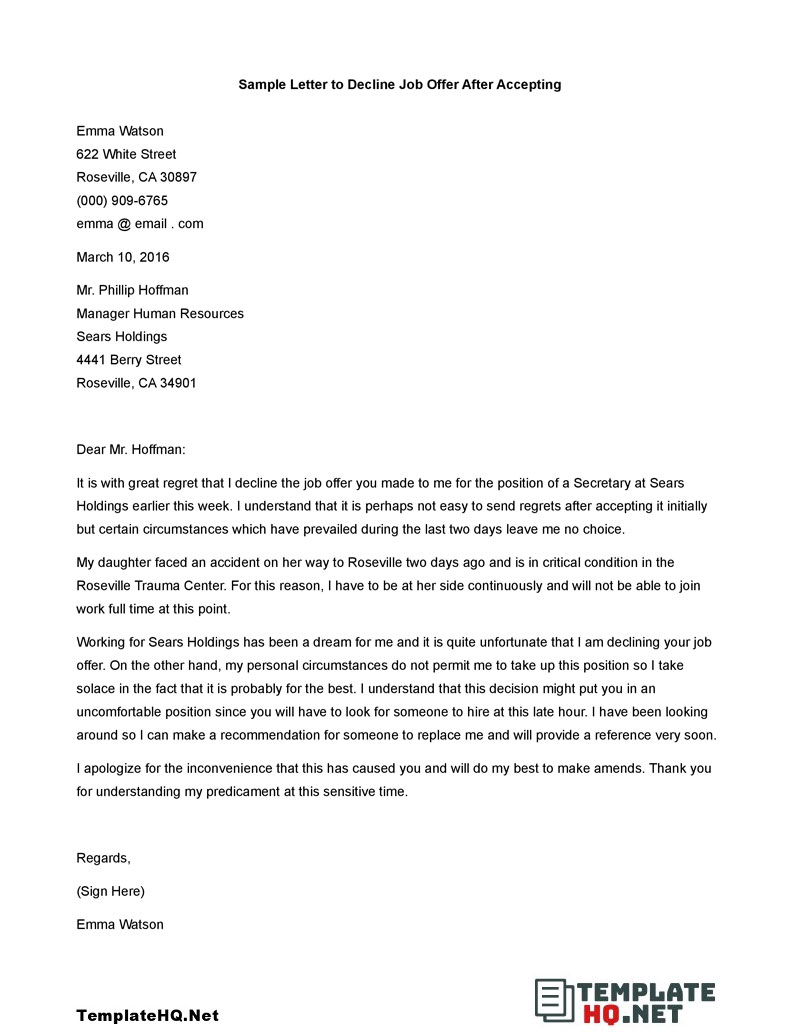 Thank You Letter For Job Offer With Acceptance
Things to Include in the Job Offer Acceptance Letter
You already know the importance of a job offer acceptance letter. Now you need to make your own.
Some people might be confused about what the letter consist of. That leads them to creating messy and unprofessional letter. Avoid that mistake by following our format. Soon, you'll be ready to make the best letter ever:
• Personal data
In one corner of the letter, write your name, address, phone number, and email address. This is important so that the company can contact you for future work arrangement.
• Company's data
Aside from your personal data, it's also important to specify the company you are referring to. Mention the company's name or your employer's name, their address, and their contact number.
• Salutation
Show your manners by starting with "Dear (employer's name)" or other respectful salutation.
• Intention of taking the job or not
The first sentence should be a clear statement of whether you're going to take the job or not. If you are, use words that shows your enthusiasm and gratitude about being offered the job. If you are not, show a clear and respectful reason why you choose not to accept the job offer.
• Details of the job
In this section, you can reiterate the arrangements made about the job. It could be about the agreed salary, when you will be starting the job, or other job arrangements. This section could also be the place for you to ask for further clarification about the job details.
• Closing statement
The closing statement in a job offer acceptance letter should be strong and concise. It should reiterate your excitement towards the future of your cooperation with the company. Once again, it should also express your gratitude.
• Signature
This last part is short and simple. It shows that it is truly you who writes the letter.
Whether you choose to accept the job or not, it's important to respectfully reply with a job offer acceptance letter. It is a form of your good deed that will make a good impression to your employer. In the long run, small acts like this will make you receive more job and be respected by a lot of employer.