A recommendation letter is a letter to promote someone, in this case a student, to get into an institution or a certain program. It is a complimentary document to the applicant's cv, certificates, and other personal documents. By tailoring words that highlights the student's traits, you'll make the applicant's submission shines even more. A law school recommendation letter serves the same purpose. But, it is dedicated towards a very specific institution, a law school.
What Does it Take To Get Into Law School?
Law school is known for it's harsh admission. To survive in law school and to survive in the world of law after graduating, students need several traits.
There's a lot of cases to be solved when you're a law school graduate. A detail oriented person is important to leaf through all those cases and to solve it thoroughly.
Another aspect needed for law school problem solving is an analytical skill. It have to be higher than most because graduates will be dealing with complex rules and cases.
Since law cases can be very complex, grit is needed to push through and see the problem until the end.
Law students need to survive more or less four years of intense hard work to come out as one of the best law school graduate.
This is a skill that is needed not just in law school but in any profession. Universities also value this skill so that they know that you can adapt to their environment quickly.
Last but not least, any aspiring law school graduate needs to be fluent and confident in public speaking.
Those are some of the few traits that is demanded and developed by a law school when training their students. Therefore, these traits are often one of the most searched for when reviewers read a law school recommendation letter. If your student has any of these skills, highlight it. A good tip in making the skill shine is by relating it to what students do in real life. It is important that the skill that the student have is implemented and trained by engaging in real life activities.
Law School Letter of Recommendation
Law School Recommendation Letter Example
Letter of Recommendation Sample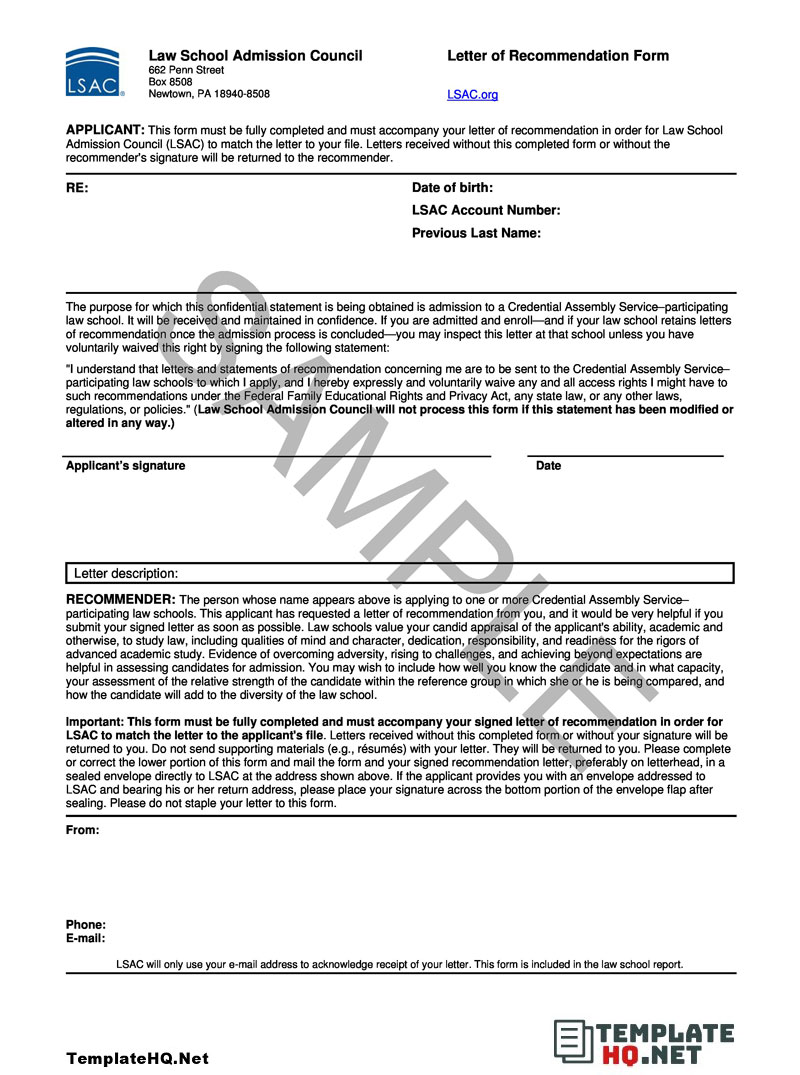 Recommendation Letter for Law School Guideline
Sample Law School Recommendation Letter
Simple Recommendation Letter
How Do You Write A Compelling Law School Recommendation Letter?
A compelling law school recommendation letter is one that stands out from the rest. This letter doesn't just excel in the aspect of structure but also the choice of words and flow of the letter. We are here to spill some of the structure of the best law school recommendation letter.
Regarding the structure, use the basic recommendation letter structure. In it, the first thing is the name and address of the writer and the law school. Here, it also helps to include your relation to the student. Then, you should move on to the body of the paragraph. This part includes a detailed explanation of the student's skill based on your observation. Be detailed, personal, and positive in all the sentences. Make it thorough and free from writing mistakes too. Then, close it off with a formal salutation and signature.
What To Do After Finishing the Letter?
This part depends on the criteria given by the school. Do you need to submit it online or to get it through mail? Despite the method of submitting the letter, make sure that you write it neatly with a business format. Also do not forget to submit every contact number or address that you have. Universities sometimes want to speak in person to ask for further clarification of the student's experience.
Law school recommendation letter is one of the gateway to getting to the harsh but inspiring law school. Therefore, put your all into creating one that is hard to put down. What you need to do is to follow our tips to make a good one.