Taking a leave is increasingly harder as we get deeper and deeper to a corporate world. Plus, a leave application form is harder to make.This makes it harder for employees to rest when they're sick or to go when there's a pressing matter. A sense of being locked up in their company will then surface. The result will be a decrease in productivity.
Some people might blame the company for being too strict. But, in most cases, the truth is that the leave application letter is not good enough. Therefore, it should be in the company's interest to create a leave application form to make taking a leave easier for the employee and the employer. The employee should be able to easily issue a leave. On the other end, the employer should be able to quickly know the information on the leave being issued.
We're here to give you the tips to make an admirable leave application form. Read our elaboration below!
What to Include in a Leave Application Form
A compact leave application form should include some points such as but not limited to :
Identification of the applicant
This part should include a space to give the applicant's full name. Applicants should also be able to specify their department or position in the company. Additionally, you could add a space for their personal phone number and company identification number.
Reason for issuing a leave
The reason could be restricted to emergency leave, maternal leave, or other categories. Just to be safe, leave out a space for applicants to explain the reason themselves.
Details of the planned leave
Whether they've booked a ticket and how long they plan to take the leave should be questioned.
Area for questions
The applicant should also be able to ask other questions regarding their leave in a designated column. This makes the applicants feel heard. It can also accommodate some concerns that may not be addressed in the existing forms.
A leave application form that includes the aforementioned points is more than enough. If your company is willing, you could also set up a date for personally talking with the applicant. This is to see whether their reason is justifiable by asking for more explanation.
Annual Leave Application Form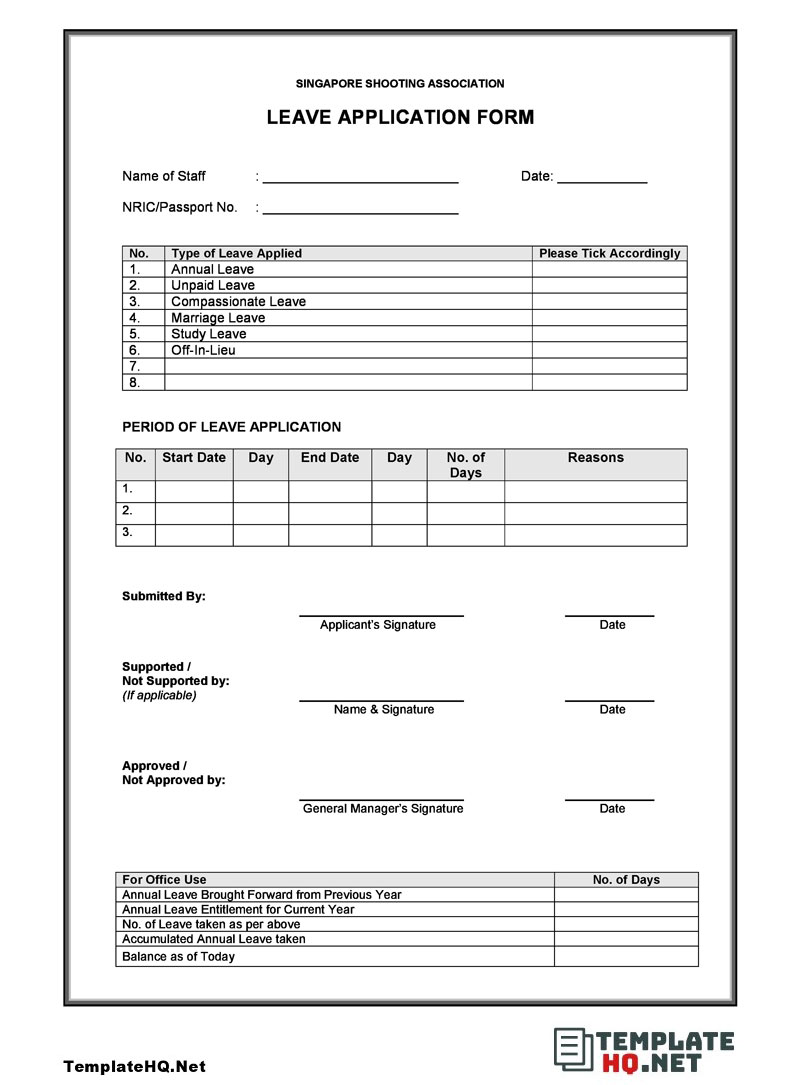 Application for Child Care Leave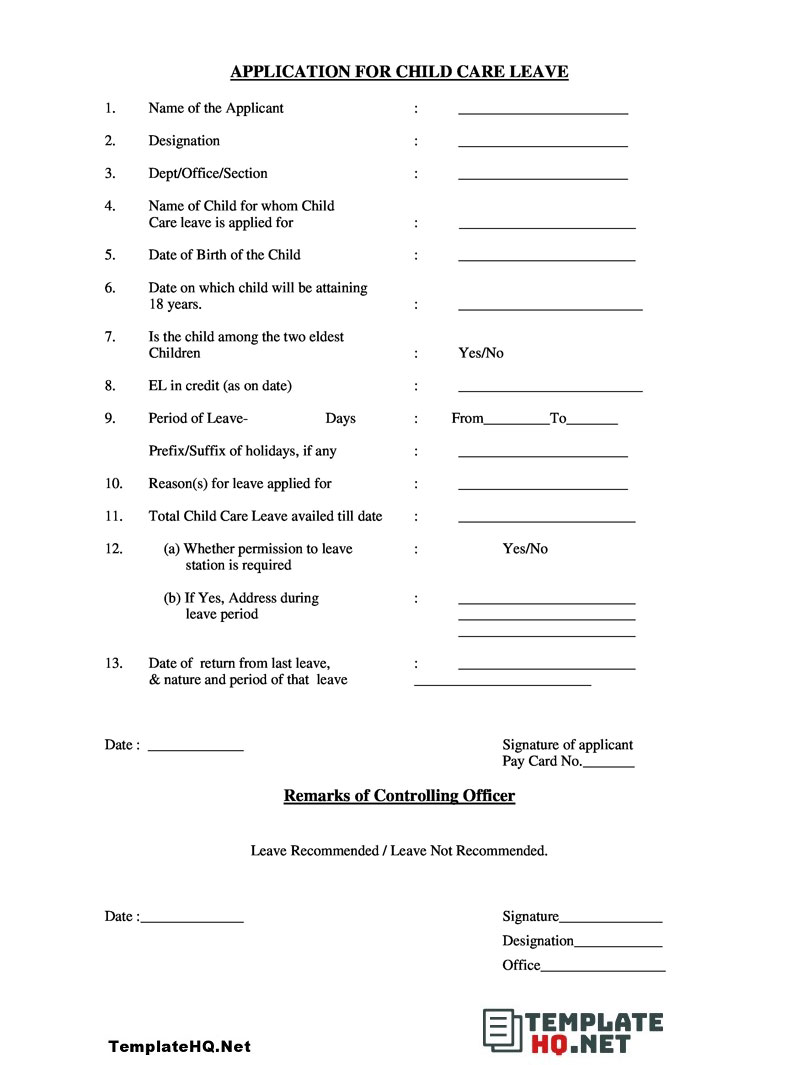 Application Form for Leave of Absence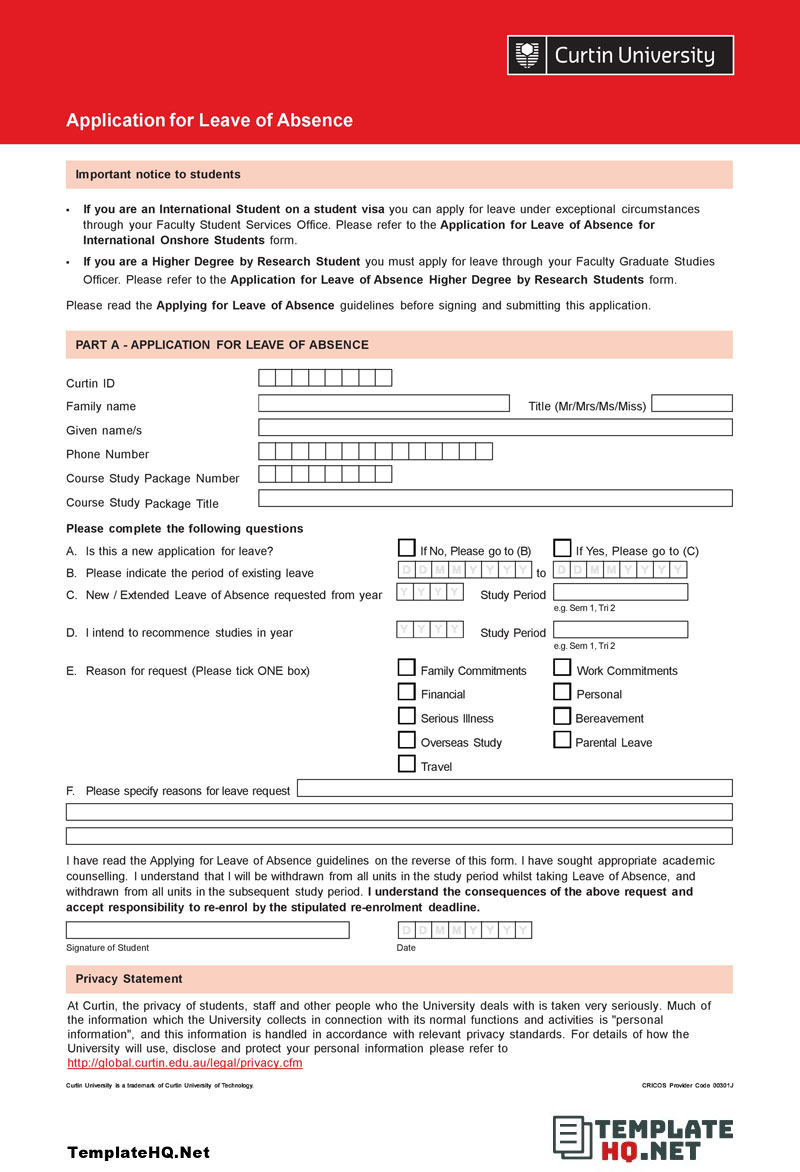 Long Service Leave Application Form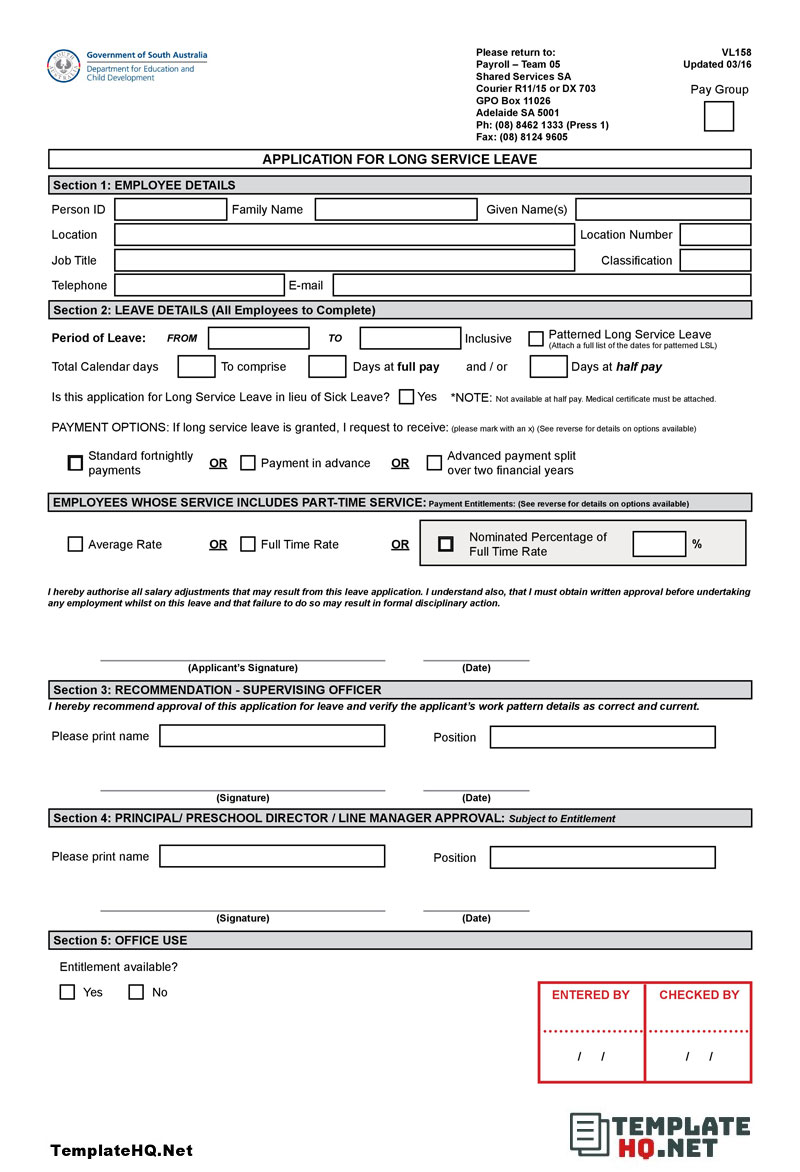 Parental Leave Application Form
Personal Leave Application Form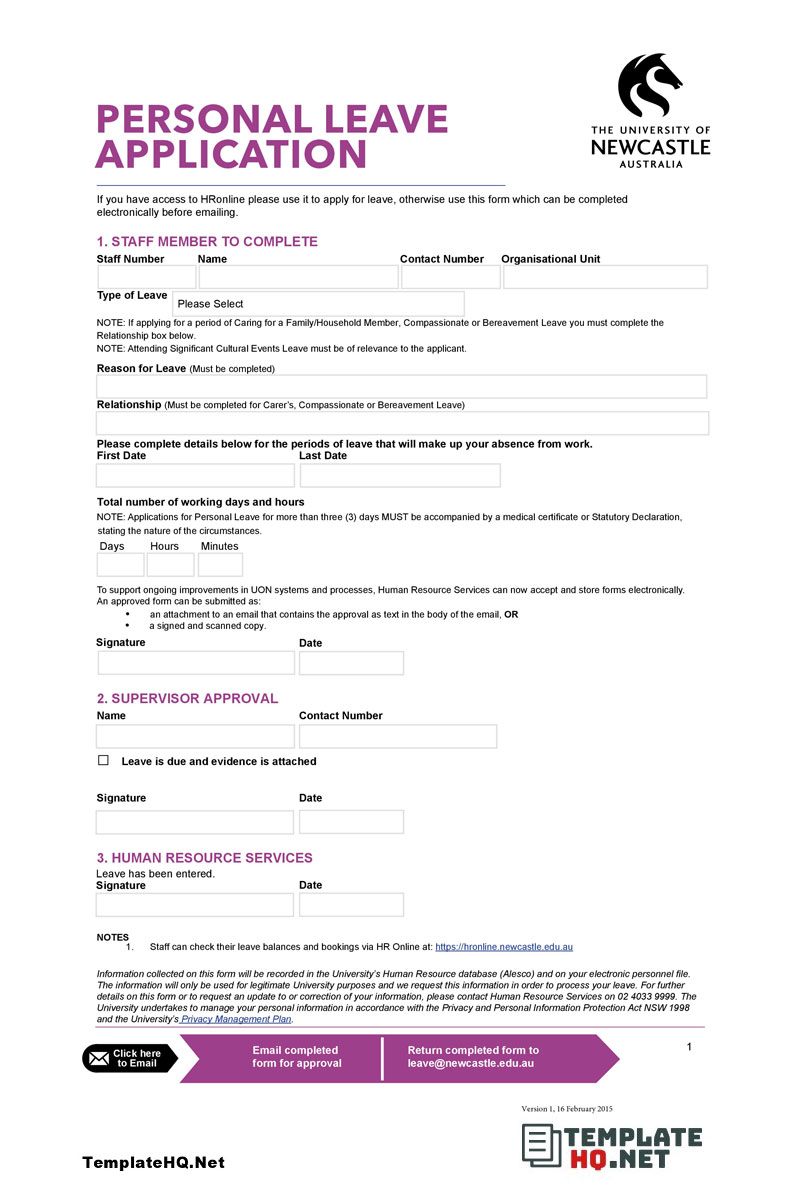 How to Fill the Leave Application Form
To make things easier, it will be a good idea to create a leave application form that is accessible and easy to fill. A tips from us would be to make it able to be submitted online or in person.
Online application is more efficient. Making it accessible online means that you need an online platform. If you already have a company website, it helps to create a space to put this leave application form. But, you can also send the form via email whenever an employee requests it.
On the other hand, you can also make a physical copy of the form. Make sure that it is accessible in a place where employer knows. For example, you can keep it in the secretary office or a communal desk inside the building.
When Can Someone Take A Leave?
To judge whether someone deserves to take a leave, refer back to their leave application form. The urgency of their application can be seen by whether or not they've booked a ticket. You should also see the reason behind their issuance. If it's due to personal reasons, you need to specifically ask what that reason is. It should also be put in your consideration how long they are taking a leave. If it's too long, you might need to ask more clarification from them.
Taking a leave shouldn't be so complicated for both the employee and the employer. Apply our tips for a compact yet informative leave application form for a better working place.