Camping, hiking, and being in the wilderness can refresh your soul. This is the essence of Boy Scouts of America. Boy Scouts of America aims to give you a life changing experience through going on an adventure. But do you know what it takes to get in? We are here to share some of the tips for a BSA health form.
What is a BSA Health Form?
Health matters. Especially when you want to join a group that is packed with physically demanding activities. Boy scouts is known for that type of activities. To pass, people who want to be members will need to be deemed healthy for physical activities. One of the form to formalize that statement is a BSA health form.
BSA Health Form is a form specifically made for Boy Scout of America members. In it, you have to prove that you are healthy in several aspects. The person who will fill out and sign the form is a professional doctor. Although in some cases, you need to fill them yourself.
What Are Some Key Aspects in a BSA Health Form?
First of all, there are different health forms for different activities. For example, there are health forms for high-adventure activity, a normal camp, a hiking trip, etc. Therefore, you should know what activity you are going to join.
The content of these forms are pretty much the same in each one. The first page will be filled with a written information that you need to consent on. The information is usually regarding the activity that is going to be done –it's risk, activities included, and other cautionary sentences. Then, you need to fill out a short summary of your medical history. The section after that is mostly filled by a doctor. This section consists of the condition of your health like allergies, medications, and more. Throughout this form, you also need to rewrite your identity which includes your name, address, contact number, etc.
One section that you need to pay attention to in this form is the emergency contact person. Since boy scout's activities comes with a lot of risk, fill out this form thoroughly. It will ask you to list the name, address, and alternate contact number of the emergency contact person.
BSA Health Form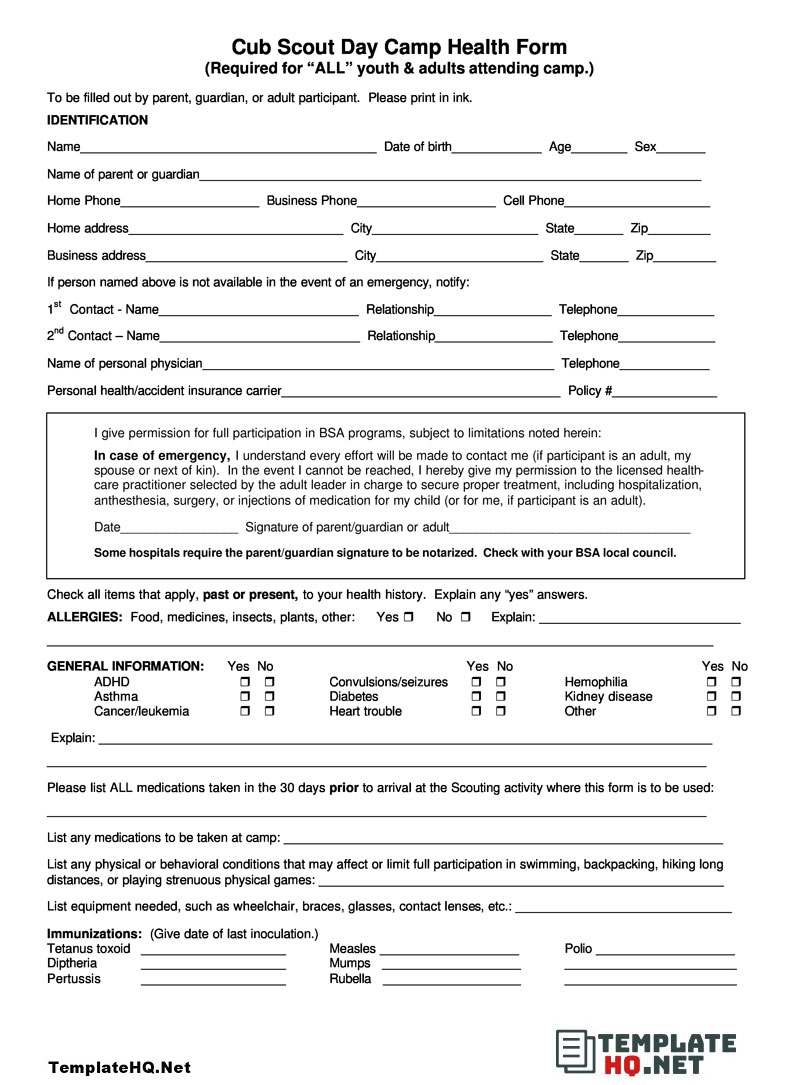 Sample BSA Annual Health Form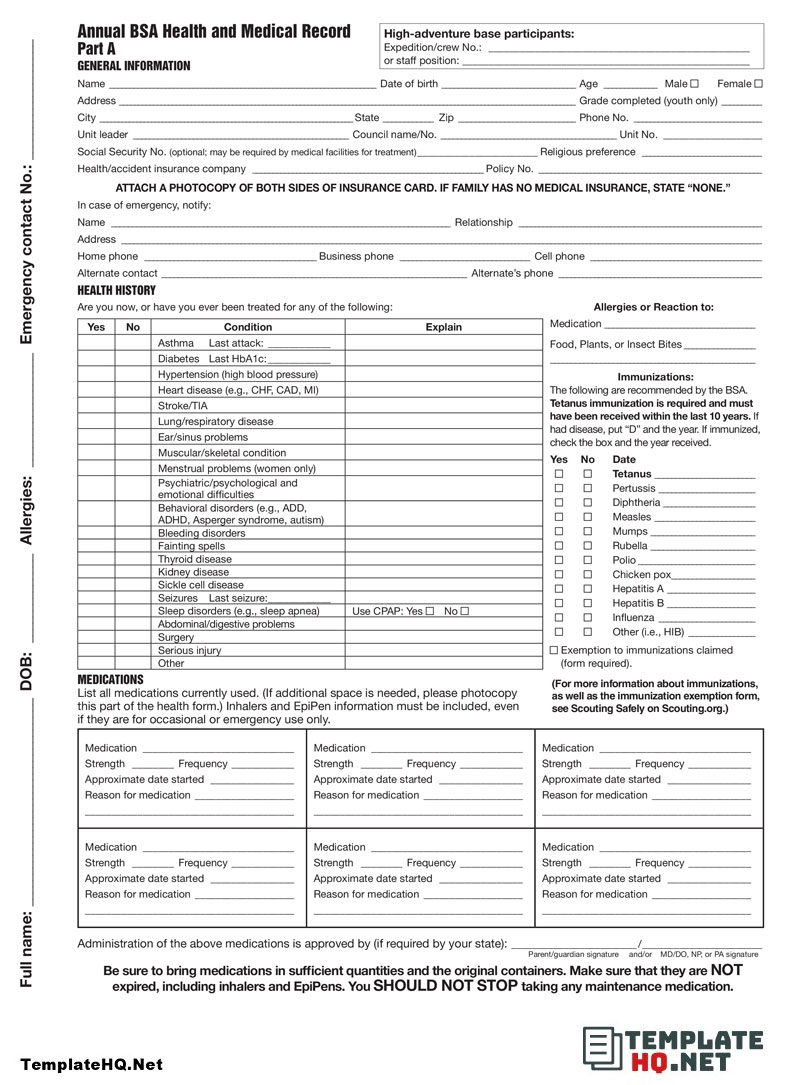 BSA Philmont Health Form
Sample BSA Health and Medical Form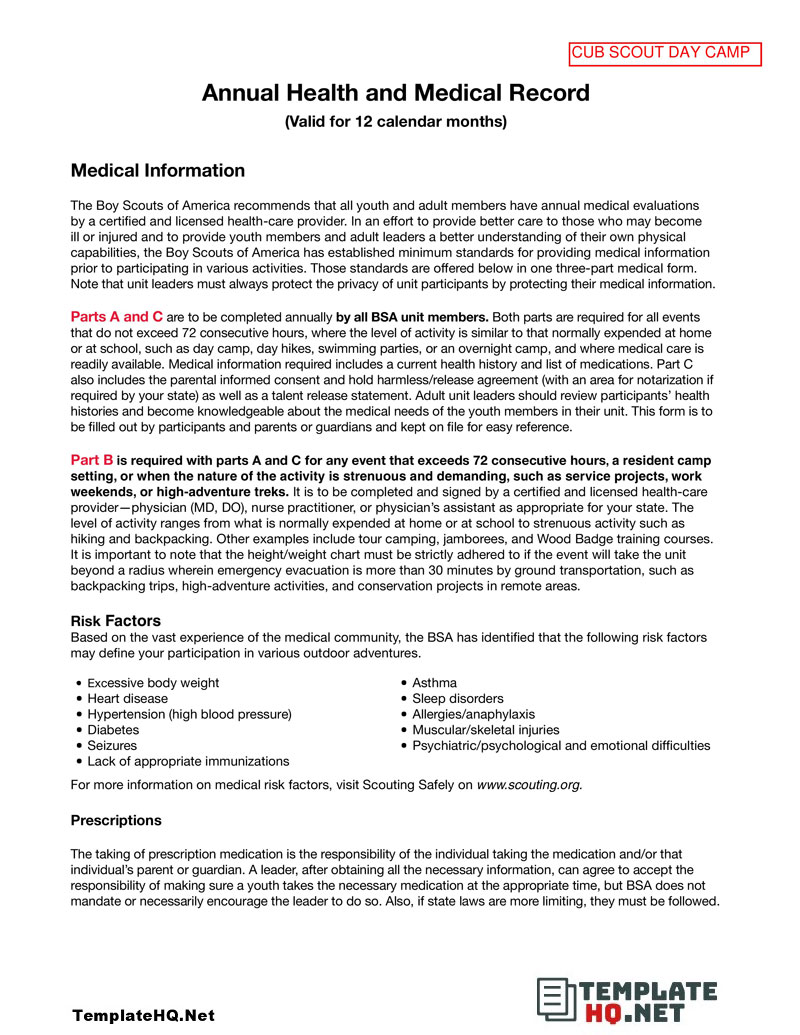 BSA Sea Base Health Form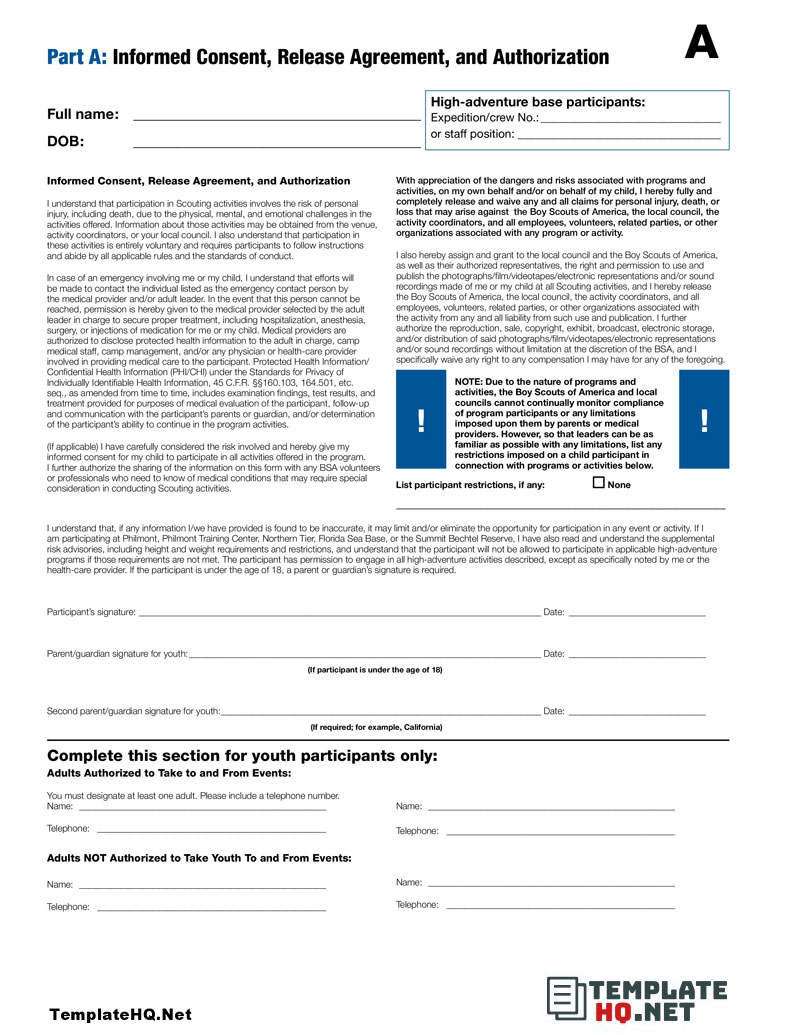 Sample BSA High Adventure Health Form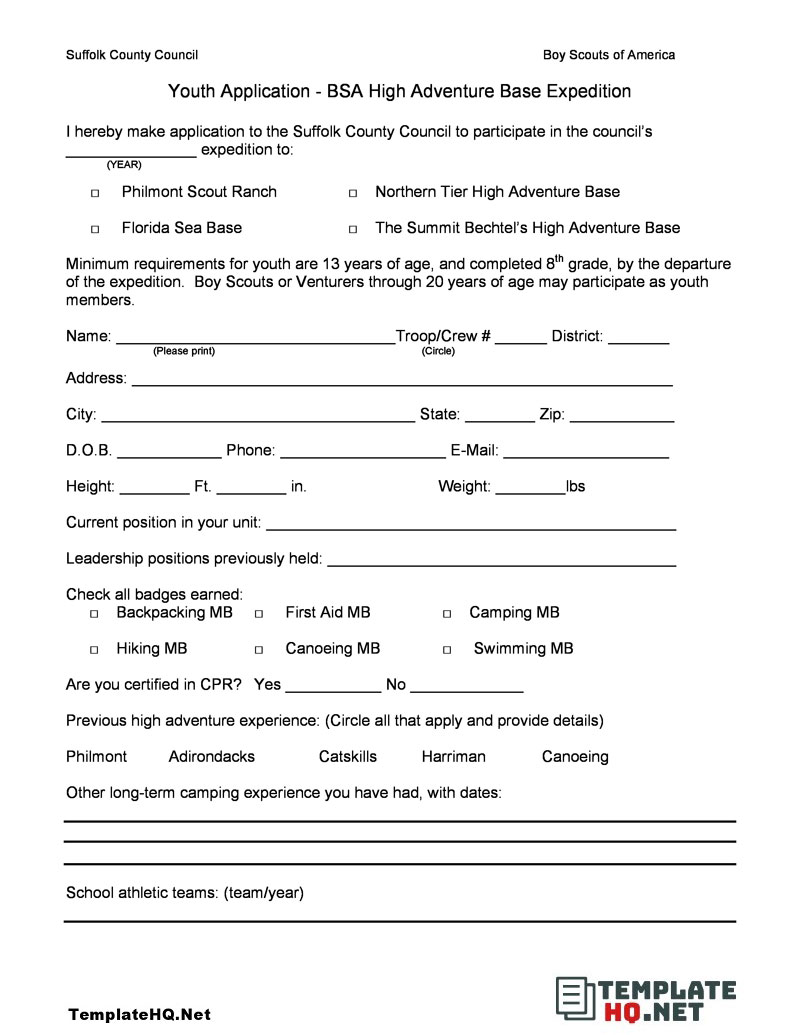 How to Pass a BSA Health Test?
Knowing the form is one thing but passing the test is another. We are here to give you some tips on how to pass the Boy Scout of America health test. First of all, you need to know your medical history or condition. Not knowing your medical history will not only harm you but the other boy scout. Imagine being sick in the middle of wilderness. You will feel miserable and your team mate will not be able to go on with their activity as usual. Therefore, know all of your medical history and tell it to the examining doctor.
Be ready for the pre-participation physicalsis the next tips. Pre-participation physicals are a series of physical training. It is provided for boy scouts who want to join a camp for more than 72 hours or to engage in a physical activity.
Lead a healthy life. Joining a short pre-participation physical training might not be useful if you aren't the most active person. To make sure that you survive, start leading a healthy life. Exercise and eat healthy food regularly. Do this for at least two weeks before the training so that you're good to go.
A BSA Health Form is a form explaining a boy scout's medical condition. Know how to successfully fill out and pass the test by using our tips above. Have a happy adventure!