Have you ever heard of letter of intent? It is a letter used to in several occasion. It can be used as the basis of a binding agreement between a business. It can also be used by graduate students. It is hard to imagine how to create a letter of intent sample if you're not sure what it is. That is why you need to familiarize yourself with the uses and the contents in our article.
The Different Uses of A Letter Of Intent
Not all letter of intent sample is created the same. There are some different use to the letter. The first one is for business purposes. Here, parties state their understanding of the current business. It is going to be the basis of a binding agreement.
A letter of intent is also useful for jobs. In this type of letter, job appliers specify why they are interested in the job. They also write about their qualifications. This is usually used complimentary with a CV.
Aside from jobs, this letter is also used for academic purposes. A letter of intent is usually called a purpose statement letter in a college application. Similar with a job letter of intent, writers talk about why they want the college. They also write about why they will fit in the college or academic institution.
Homeowner Letter of Intent Sample
Letter of Intent Sample for Medical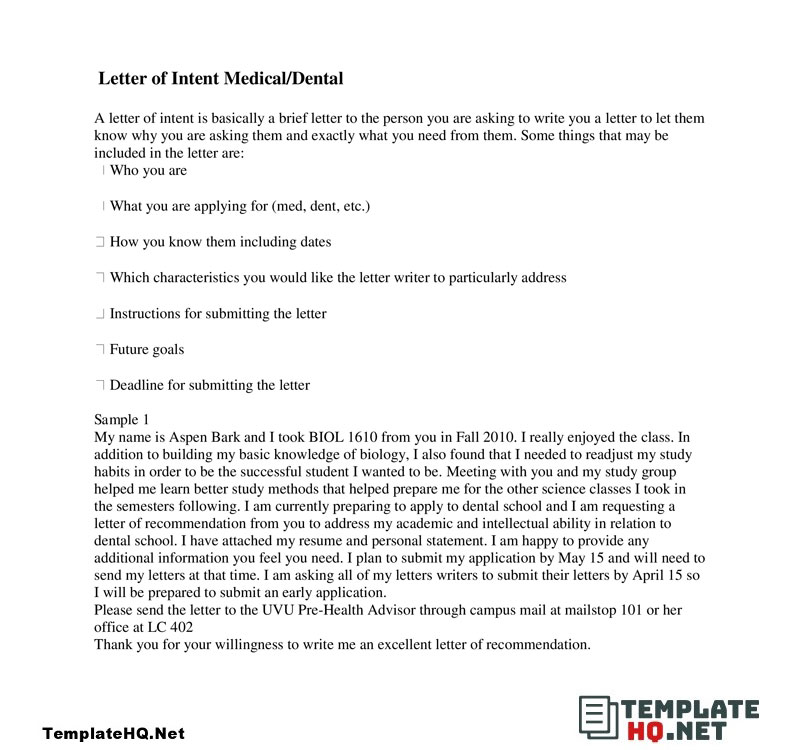 Letter of Intent for Project
Letter of Intent to Destroy
Sample Letter of Intent for Partnership
Sample Letter of Intent to Transfer Funds
The Format of A Letter of Intent
Though there are different uses of a letter of intent, the contents are pretty much the same. Here are some key parts of a letter of intent:
Personal identity.
This part is as simple as it sounds. All you have to do is to mention your name, address, and contact number.
Salutation.
Use professional salutations like "Dear Mr/Mrs/Ms.". This will be a good start to your letter.
Body.
The body of the letter should be tailored to the goal of the letter.
Closing and signature.
Close the letter of intent with a signature to formalize the whole letter.
Letter of Intent Sample
Now, we're going to provide you with a sample. We're going to write an academic letter of intent sample. Pay attention and make some notes!
Hillary Brooks
Ecology St. No 12
California
34598

Dr. Randy France
Head of Oyo University
California
34507

Dear Mr. Randy,

I am writing this letter to inform you that I have a high interest in entering Oyo University in California, specifically in the Master's program of International Relations. Alongside this letter, I have submitted my CV and other forms necessary.

I am a graduate from Tree Top College. I graduate with a Bachelor degree in Business and Management study. I graduated with a satisfactory GPA of 3.75, meaning that I also graduated with a cum laude. Prior to going to Tree Top College, I went to a local high school in California named Francis G High School. During my school years, I strive to learn about how the economy works, especially in the realm of international business.

I show my passion through conducting research, joining business competitions, and tutoring students on economic topics. My accomplishment in the business competition is shown through my title as Best Essayist in EconomiX National Competition 2019.

With my qualifications, I believe that I'll be a great fit for Oyo College. Any further question can be asked through my email or other media. I'll be looking forward for a news from your university.

With respect,

Hillary Brooks.
It's really not that hard to create a letter of intent. All you really need to know is familiarize yourself with a letter of intent sample. Once you do, you'll find that writing one is a piece of cake!